The Ultimate Alaskan Fishing Adventure. Now Booking for 2022.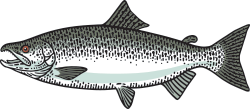 2021 Season Recap: The Fish Weren't   Social Distancing.
Despite Covid 19 and all the restrictions, we had an excellent 2021 season. The weather was fabulous, our guests were excited and the fish cooperated fully. Big limits were common on the ocean and in the rivers. Halibut fishing, bottom fish and saltwater salmon was the best in years, while the Kenai River produced countless coho and sockeye. King fishing was very good when the river was open. Big Sky adapted to these challenging conditions which provided the Camp new business from all around the country as well as Alaska residents. Big Sky persevered as usual to provide our guests the best fishing, lodging, and Alaskan adventures we are known for.
Book now to fish with us in 2022. Our charter and fishcamp is internationally famous for spectacular salmon fishing. Huge halibut are close as well, along with massive lingcod, yelloweye, and bottom fish. Trophy rainbows and Dolly Varden too! At Big Sky Charter and Fishcamp, the rustic comfort of our authentically Alaskan lodge and nine cabins can be the perfect basecamp for everything the Kenai Peninsula has to offer. Enjoy it all: salmon and halibut fishing, wildlife viewing, adventure tours, sightseeing, whale watching, kayak floats and much more. Prime dates are filling fast. Call today to book your Alaska adventure of a lifetime.
Authentic Alaskan Accommodations