The Ultimate Alaskan Fishing Adventure. Now Booking for 2023.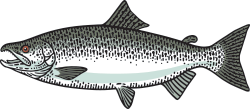 Season Recap: We're So grateful we get to Entertain our Guests like this every day.
For the 47th consecutive year, Big Sky Charter and Fishcamp proved to every guest that we truly do deliver the best fishing and accommodations in Alaska. 2022 was undoubtedly one of our best years ever. Our fish processing crew was exhausted every day, yet, they fileted, vacuumed packed and filled the freezer with smiles and congrats for every guest all season long. Our saltwater boat, "Shooter Again," set new records for big halibut and the sockeye and silver fishing on the Kenai river was just plain unbelievable. The Rainbows were fat and feisty. The rockfish were nearly limitless. Coolers were bursting. Anglers were excited. Captains were elated. And, since we have boats located in Homer, Seward and on the Kenai river, we're always on the fish regardless of the weather.
It's not too good to be true. Allow us to prove it to you. Inquire now about great early season specials and prime-time dates while they are still available. As usual, we expect to be at full capacity so don't delay in booking your adventure. You won't regret it.
Authentic Alaskan Accommodations