The Ultimate Alaskan Fishing Adventure. Now Booking for 2024.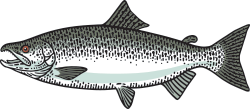 Reflecting on an Epic and
Unforgettable Season
Last year marked another successful Big Sky season! With pride, Joe Connors, owner of Big Sky Charter and Fishcamp, received a second lifetime achievement award from the Kenai River Guides Association for his enduring commitment to conservation. We draw inspiration from his dedication.
Fishing began in mid-May with exceptional saltwater king salmon and halibut catches. In June, the Kenai River offered solid trout fishing and the first waves of prized sockeye. July brought excitement as we eagerly awaited the peak salmon runs, which did not disappoint. An unexpected influx of near-record-breaking sockeye hit the Kenai in the later weeks of July, creating an epic fishing experience. Large and aggressive silver salmon followed in August, providing phenmenal action. Rainbows were consistent all summer.
We added a second vessel to our saltwater fleet this year. The 28' "Reel Quick," captained by seasoned guide Adam Reed, joined the "Shooter Again" to fully capitalize on the ocean opportunities. Both yeilded plenty of keeper and oversized halibut in Homer's waters from May to June. The "Reel Quick" moved to Seward in July and August, offering unforgettable trips for limits of salmon and rockfish.
Our enduring relationships with guests, with nearly half being returning customers, attest to our commitment to excellence. Reconnecting with loyal clients and building new relationships with first-time visitors was a highlight of the season. Hosting honeymooners, families, and corporate retreats was a privilege, and we cherished each unique adventure.
As we prepare for the 2024 season, the future looks promising. Excitement is building for another remarkable year. Reserve your spot today and get ready for an unforgettable fishing adventure with Big Sky!
Authentic Alaskan Accommodations