The Ultimate Alaskan Fishing Adventure. Now Booking for 2023.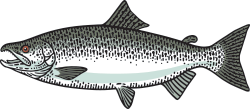 Season Recap: Angling opportunities abound and our guests took full advantage.
The 2022 season at Big Sky Charter and Fishcamp is in the books and it was a year to remember. Our guests were obviously confident with all the Covid precautions we enacted because they came from every region of the lower 48 states, especially the eastern seaboard. They were so thrilled with the pristine landscape, abundant fish, and exceptional service, many of them have already rebooked to fish with us again. Of course, we had plenty of returning customers as well, since they knew what to expect. Overall, we were booked solid from June through early September. We expect to see similar interest in 2023 so please contact us today to secure the dates that work best for you.
Big limits were common on the ocean and in the rivers. Halibut, bottom fish, and saltwater salmon fishing was the best in years, while the Kenai River produced countless coho and sockeye. King fishing on the Kenai was limited due to conservation regulations. We've acquired another ocean-going vessel which will be located in Seward harbor. This opens up new and exciting angling options for salmon, black bass, and rockfish. Be sure to ask us about it when you call. If you're ready to experience exceptional fishing in Alaska's premier paradise, don't wait to reserve your spot.
Authentic Alaskan Accommodations